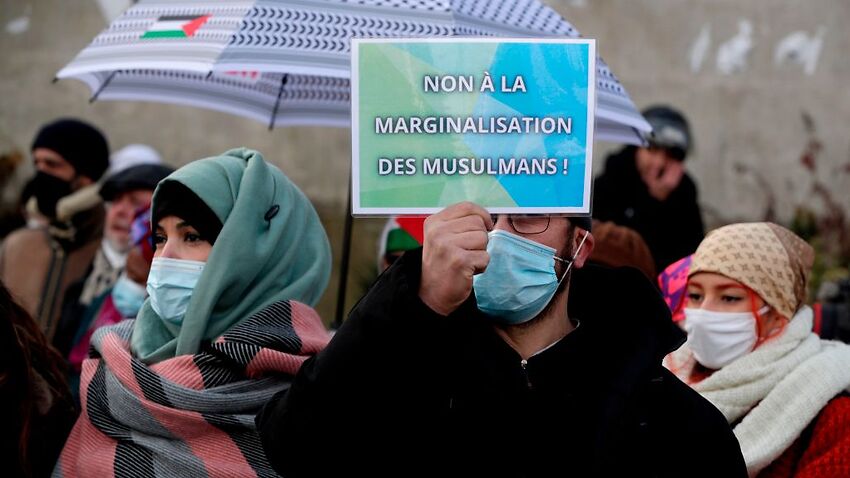 Amid crackdown on "Islamist separatism," the French Senate voted to ban the hijab for Muslims under 18
Those opposing the hijab ban say it is the latest erosion of religious freedoms against Muslims in the country and across Europe, where other countries have introduced bans covering clothing Islamic trends in recent years.
France banned the wearing of the full face veil in public in 2011, and last month a referendum by a far-right group to ban face coverings in Switzerland won a narrow victory.
Denmark, Austria, the Netherlands and Bulgaria have also implemented full or partial bans on wearing face coverings in recent years.
What is the "anti-separatism" bill and why is it being introduced?
France has a strict form of secularism, and the government has said the bill – a large-scale crackdown on speeches and actions by figures or religious organizations seen as subverting the core values ​​of the French Republic – will contribute to the enforce.
The bill does not explicitly mention Islam. The French constitution prohibits discrimination based on religion, which means that it must be drafted in such a way that it applies to everyone.
Christian leaders have also expressed concern that the bill places undue limits on fundamental freedoms.
However, the right-wing Republican Party and the far-right National Rally both pushed during the drafting process for broader restrictions on wearing the Islamic headscarf in public, and this was debated in a very busy atmosphere at the following a series of controversies around Islam.
French President Emmanuel Macron Source: PAA
---
In October last year, French President Emmanuel Macron sparked international outrage after denouncing a trend towards "Islamist separatism" which sought to create a "counter-society" rejecting secularism, gender equality and other parts of French law.
One phrase in a particular speech – "Islam is a religion in crisis all over the world" – drew particularly fierce criticism abroad.
In the same month, schoolteacher Samuel Paty was beheaded in the street by a radicalized adolescent of Chechen descent after showing his class cartoons mocking the Prophet Muhammad. About two weeks later, a 21-year-old Tunisian killed three people in a church in the southern city of Nice, further exacerbating tensions.
The French Minister of Higher Education sparked a backlash in February from university directors after warning against the spread of "Islamo-leftism" in universities across the country.
"This is an extremely strong secular offensive," Home Secretary Gerald Darmanin told RTL radio of the bill ahead of the Senate vote last month.
"It is a hard text … but necessary for the republic."
How do Muslims react?
Very negatively.
Many see the bill and the hijab ban as France's latest recent move that unfairly stigmatizes its large Muslim community.
Following Mr. Paty's murder last year, the government used its existing powers to shut down several mosques and two large Muslim organizations, the Baraka City charity and the Collectif contre l'islamophobie en France.
Olympic fencer Ibtihaj Muhammad – the first American Muslim woman to wear a hijab while competing for the United States at the Olympics – said the hijab ban amounted to "Islamophobia enshrined in law."
"This is what happens when you normalize anti-Islamic and anti-Muslim hate speech, prejudice, discrimination and hate crimes," she wrote on Instagram.
US activist Amani al-Khatahtbeh also took to social media, tweeting: "No government should regulate how a woman can dress, whether she wear it or take it off."
During a trip to France 3 years ago, the border police forced me to remove my scarf to enter the country while I was wearing a scarf on my passport photo.

No government should regulate how a woman can dress, whether she puts it on or takes it off. #handsoffmyhijab #FranceHijabBan pic.twitter.com/VfuHi02Gqj
Australia's Muslim community is also concerned that the hijab ban will further marginalize an already vulnerable community in France and escalate tensions.
"This is an attack on the freedom of Muslims to worship their freedom of religion, and it definitely further marginalizes the French Muslim community," Adel Salman, chairman of the Islamic Council of Victoria, told SBS News.
"Muslim minorities in France and elsewhere feel marginalized, feel second-class citizens, this will create tensions.
"The message here from the French government and leaders is that Muslims, or Muslim identity, or Muslim identity, are not welcome."
Mr Salman said it was concerning that countries around the world seemed to be adopting more and more policies targeting Muslims, and more could come in the future.
"We have watched this game unfold in Australia and around the world with concern, and it just seems to be escalating," he said.
"When you have governments leading some of these policies … it's going to encourage others in those societies to do the same."
With AFP.