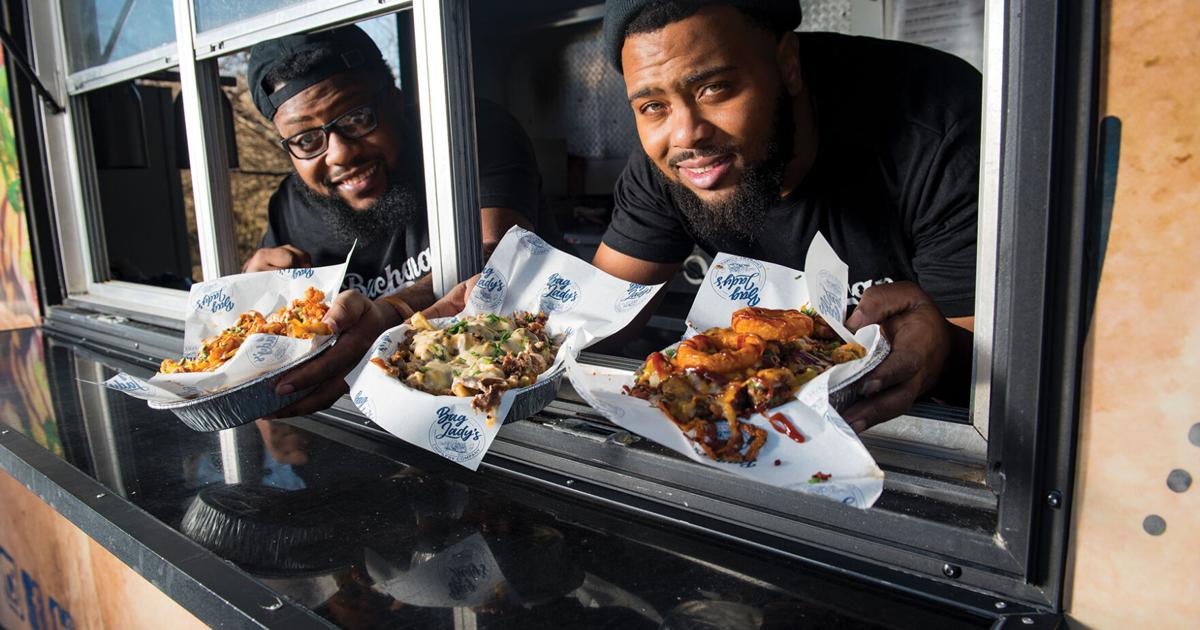 Bag Lady's Chip & Fry Co. prepares to open a store on Buchanan Street | Characteristics
When Bag Lady's Chip & Fry Co. opens its first physical location on Buchanan Street this spring, the Littleton brothers hope you'll show up for the fries. But when it comes to their empire, Buchanan Street is just the brothers' first stop.
Like their entrepreneurial neighbors Slim & Husky's Pizza Beeria — which started on Buchanan Street and now has locations across the city as well as in Atlanta, Sacramento and Memphis — the Littleton brothers plan to be a national brand. They hope to have 10 locations within the next two years.
It's been a quick ride for the Nashville natives, who opened their fries-focused food truck less than a year ago. They named it after their late grandmother, who had a knack for making fries that were crispy on the outside and textured on the inside. She kept bags of hash potatoes in her freezer, so naming the food truck Bag Lady's made sense.
The Bag Lady menu includes pizza fries, hot chicken fries, Philly cheesesteak fries and gyro fries, plus additions of five different sauces, including Fye Fye (a spicy ranch). Burgers, cauliflower wings and other foods serve as side dishes to fries, not the other way around. Their motto? "We don't want to be your side dish."
Bag Lady's will be open for lunch and dinner seven days a week, with 40 to 50 seats inside, a patio seating 20, and a full-service bar. And yes, they keep the food truck. Just as Roy Acuff advised musicians to play the song that brought them to Grand Ole Opry When they finally arrive on the hallowed stage, the brothers won't forget what made them popular. "The food truck brought us here," says Brother Brandon Littleton. "We wouldn't give that up."
The brothers owned other businesses together, including a dry cleaner. Even as children, they say, they sold candy and second-hand toys. During the pandemic, they brainstormed business ideas that would thrive during social distancing. Brandon has worked in finance for Bank of America and Merrill Lynch. James Littleton has worked as a truck driver, Uber driver and entrepreneur. (Both brothers now work full-time on Bag Lady.) A food truck tapped into their individual strengths.
They looked for a truck that would fit their business model, but trucks were rare and expensive. So they bought a $4,000 trailer chassis, drove it to Georgia, and spent $25,000 on a fully functional, custom-built truck. This food truck has spent most of 2021 on Gallatin Avenue, and the brothers were originally looking at one of the spots in the future The Wash food center for their first location. But there was a waiting list and the Littletons were ready to go. When they heard about the Buchanan Street space, they realized it was a better fit.
"We're not just trying to be a fries restaurant," says James. "We want to be the change in this North Nashville neighborhood." He attended nearby Fisk University, and as children the two brothers went to Tennessee State University daycare — they feel connected to the neighborhood. They hope to be another black business that creates jobs (yes, they are hiring) with 401(k)s. Brandon's analytical inclinations have led him to look at 401(k) participation in this zip code (below average) and unemployment (above average), and they want to change that. (For more on the importance of new black entrepreneurship on Buchanan Street, you can watch a Best of Nashville Day 2021 video featuring the Littleton brothers and the team at Slim & Husky's.)
Brandon admits there's always an extra layer to running a business with family members. "We fight because we are brothers," he said. "But if I have to fight anyone, it will be my brother."