England and Jess Breach dominate Wales to stage Six Nations final | Women's Six Nations Tournament
If further evidence of the benefits of the Women's Six Nations lineup was needed for them to stand on their own, England's third straight bonus points victory in front of 14,689 fans surely provided it. Two each for Jess Breach and Lark Davies among England's 10 tries helped overcome Wales, who defended fiercely before the workload simply got too heavy.
As they prepare for this year's World Cup, Simon Middleton and his team will have some areas for improvement: the lineout has faltered at times and Wales inflicted pain at the scrum. A serious injury to Abby Dow was also a significant downside, but it was a crushing success showcasing England's enviably balanced game. Wales have 12 players under full-time contract this season, but the class chasm has become increasingly apparent.
"It was tough, it was physical, it was extremely competitive," Middleton said. "We were late [in the first half]but Wales forced us off the pace – I think we were shaken up a bit, and I think there are some good lessons in that for us.
Abbie Ward's damaging first run, breaking up tackles, suggested it was going to be a long day for the Welsh defenders, as did a 10-yard push from the England peloton with their first driving maul. However, the Wales defense was up to snuff and they quickly demonstrated their own threat. It took an excellent tackle from England fly-half Zoe Harrison to bring down Welsh full-back Kayleigh Powell before a mammoth shot from England prop Sarah Bern sent Welsh wing-back Alisha Butchers reverse.
Dow went down injured at 13 minutes and a long stoppage resulted. As soon as she was taken on a stretcher to a warm ovation, England took the upper hand down the right, Davies opening the scoring. Alex Matthews quickly lost an overlap, but after referee Julianne Zussman played a long advantage, an excellent sideline kick from Harrison allowed Ward to crash. Harrison made the conversion confidently through the sticks.
A more disciplined defense held England back until Breach, making his first England start in almost a year, displayed his killer instinct to jump for third down. At 19-0 at the break and with Middleton's side threatening to step up a gear, a third win from behind for Wales looked unlikely.
Still more four minutes after half-time when Davies slumped again for the bonus point score, England's close-range power crushing the Welsh defenders who had gone through a mountain of work in the first half.
Breach scored his second try and the Red Roses front line continued to flourish as Bern hit England's sixth goal to make it 36-0 after a move from the blind side. Wales' Natalia John was sent to the bin before Abbie Ward, galloping on the right, gave back rower Matthews a view of the try line and she finished with authority.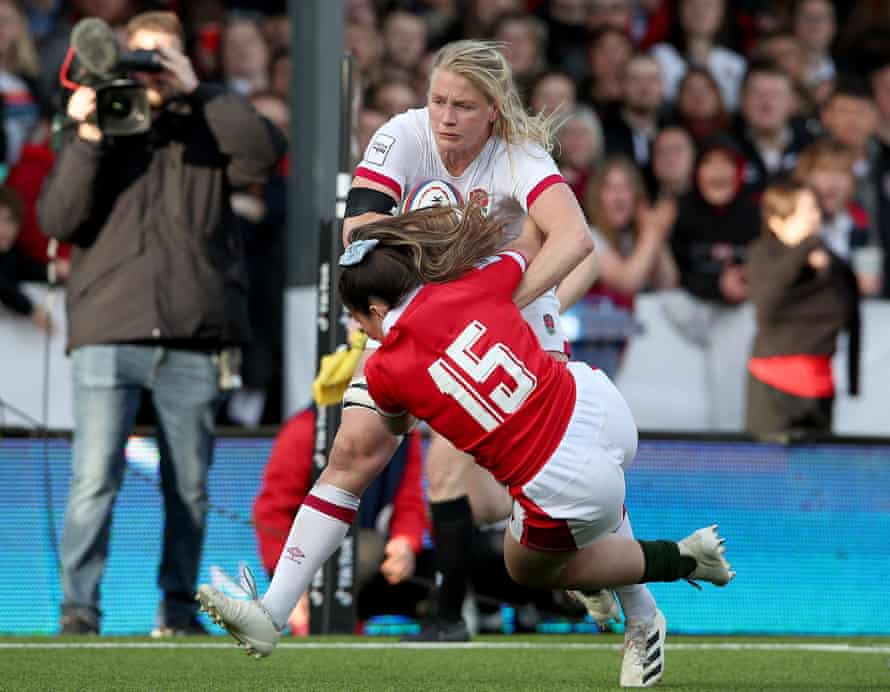 Wales weren't done, however, and Kelsey Jones crashed out for a try after an impressive drive. Harlequins' Shaunagh Brown battled for England and Emily Scarratt and Sarah Hunter added ninth and 10th downs to complete a full display. England take over, three bonus points out of three, the last round in France promising to be decisive.
"I think we will learn a lot from this. I was proud of the girls," said Wales head coach Ioan Cunningham. "We were really happy with how we got physically stuck in England. We were ready for battle, but we didn't quite get out of the blocks after the [injury] stop."
Asked about the large crowd, England captain Hunter said: "When I was there singing the anthem I thought, 'We've changed the game' – you couldn't hear yourself sometimes. This, for me, was the turning point for times to come – that's where the game should be.