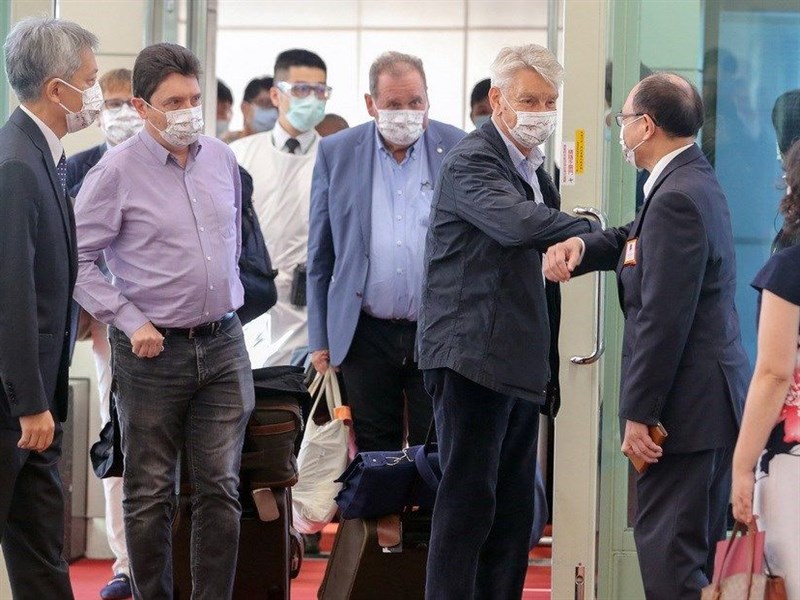 French Senate delegation lands in Taiwan
Taipei, Oct 6 (CNA) A delegation of French senators led by Alain Richard, head of the Taiwanese Friendship Group of the French Senate, arrived in Taiwan early Wednesday morning for a five-day visit.
They landed at Taiwan Taoyuan International Airport at 6:41 am and were greeted by Vice Foreign Minister Harry Tseng (曾 厚仁).
During their visit to Taiwan, the delegation will meet with President Tsai Ing-wen (蔡英文), Foreign Minister Joseph Wu (吳 釗 燮) and a number of senior officials from the Ministry of Economic Affairs, Ministry of Health and Welfare and Continental Affairs. Advice.
The Foreign Ministry said the delegation will comply with Taiwan's COVID-19 pandemic measures, but did not explain why visiting politicians are not subject to Taiwan's standard 14-day quarantine rule for all. arrivals in the country.
In a statement on Tuesday, Presidential Office spokesman Xavier Chang (張 惇 涵) said President Tsai would award Richard the Order of Auspicious Clouds with a special large cordon, to honor the senator's support for Taiwan and its contribution to the development of Taiwan-France relations.
"Richard has actively encouraged exchanges between Taiwanese and French lawmakers, and his support for Taiwan in the face of the crackdown has left a strong impression on the Taiwanese people," Chang said.
The president is due to meet Richard on October 7 at the presidential office, he said.
In March, Richard proposed a resolution in the French Senate to support Taiwan's participation in the activities of international organizations, including the World Health Organization, which was formally adopted by the Senate in May.
It was the first time the body passed a resolution in favor of Taiwan, Chang said.
Richard had already visited Taiwan in 2015 and 2018. While preparing for his third trip to Taiwan earlier this year, Chinese Ambassador to France Lu Shaye (盧沙 野) expressed strong opposition from Beijing to this visit.
The trip was delayed for several months due to a COVID-19 outbreak in Taiwan in May, but after French media announced in late September that Richard would be visiting Taiwan soon, the Chinese Embassy in France reiterated his opposition to the visit.
The visiting delegation also includes Max Brisson and Else Joseph, both vice-presidents of the friendship group; Olivier Cadic, vice-president of the Senate Foreign Affairs, Defense and Armed Forces Committee; and Friendship Group Secretary Judith Bout.