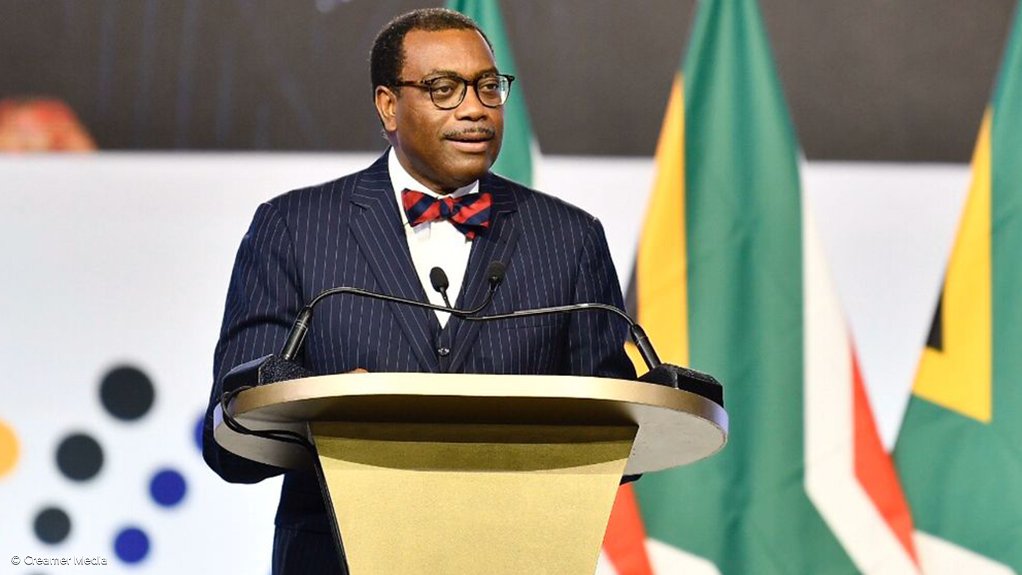 The AfDB will set up a facility to support the just energy transition in South Africa
President of the African Development Bank (AfDB) Dr. Akinwumi Adesina states that the development finance institution is ready to support South Africa's transition from coal to renewable energy and announced that a Just Energy Transition Facility is being established by the bank to support efforts transition of the country.
Speaking at the fourth South Africa Investment Conference in Johannesburg, Adesina said the bank, which had previously backed financing for Eskom's Medupi coal-fired power station, was now ready to support the transition from public service to renewable energy, as well as South Africa's drive towards net zero emissions.
He said the AfDB was preparing to approve $400 million for Eskom's own transition to renewable energy, while also supporting public and private solar and wind projects in the country.
"[But] net zero cannot be achieved with zero funding," he stressed.
"The African Development Bank, in partnership with international partners, in particular the G7 countries, plans to create a Just Energy Transition Facility that will help South Africa raise at least $27 billion to support its transition. energy to renewable energies.
"We will do this, Mr. President, without South Africa going into debt," Adesina said, addressing the president. Cyril Ramaphosa directly, but without giving details.
South Africa, he added, has the potential to be a global leader in the energy transition and deliver social and employment benefits in the process.
"If you move South Africa from coal to renewable energy, it will reduce pollution as well as negative externalities and the impacts of carbon emissions on health and the environment.
"This is a great opportunity to recalibrate Southern Africa's economy to generate thousands and thousands of green jobs and fuel new green industries for a more competitive economy."
Adesina also applauded the offer of $8.5 billion made by the European Union, France, Germany, the United Kingdom and the United States during COP26 in Glasgow, Scotland, to support the South Africa's just energy transition.
Speaking from the same platform, Ramaphosa reiterated that the Presidential Task Force on Climate Finance, led by the former Deputy Governor of the Reserve Bank Daniel Minelehad been created specifically to lead the mobilization of the funds offered.
"This partnership will involve repurposing and refueling some of the coal-fired power plants that are reaching end of life and creating new livelihoods for the workers and communities most affected by this change," Ramaphosa said.
CEO of Eskom Andre de Ruyter said the energy transition, if implemented well, could provide an economic stimulus that could generate new industrial opportunities, as well as 160,000 net additional jobs, including jobs for workers and communities currently linked to the coal value chain.
Eskom estimates that some 68,000 MW of variable, mostly new, renewable energy capacity would need to be added to meet the 22,000 MW of coal the utility would withdraw by around 2035, as well as to meet any growth in demand.
The cash-strapped utility was only contributed 8,000 MW of that capacity, leaving 60,000 MW for private and municipal generators, which would require political certainty and a level playing field to invest.
"We will establish an independent transmission network and market operator precisely to give investors confidence that their bids in the power pool will be judged fairly.
"So from our perspective, we're all in the process of making that transition happen, that it happens quickly and that it's fair," De Ruyter said.
ENERGY INVESTMENT COMMITMENTS
The President also officially received five investment pledges from energy companies and energy component manufacturers, including:
R16 billion by Scatec of Norway to be invested in solar PV and storage projects in the Northern Cape under the Risk Mitigation Independent Power Producer Procurement Scheme.
R3 billion from African Rainbow Energy, which would be invested in several renewable energy projects arising from the Independent Power Producer Procurement Scheme of Renewable Energy and Integrated Generation Projects;
R463 million from Bio2Watt, which is invested in biogas facilities in Gauteng and the Western Cape;
R437 million from Seraphim of China to produce solar photovoltaic (PV) cells and modules in the Coega and East London Special Economic Zones in the Eastern Cape; and
R30 million by Polarium of Sweden to establish a lithium battery module production plant in the Western Cape.
In his remarks, Ramaphosa highlighted ongoing market reforms in the energy sector, which he described as the most significant transformation in nearly a century, to help fill an immediate supply gap and strengthen long-term security of supply.
"In December last year, Eskom met its deadline for establishing a separate transmission entity and is expected to complete the process of unbundling into separate entities for generation, transmission and distribution by the end of this year. .
"We are moving forward to facilitate a competitive power generation market and the creation of an independent public transmission company."
The president has estimated the current deficit at 4,000 MW, while Eskom and other commentators have indicated it could be as high as 6,000 MW and will rise sharply in coming years unless capacity is added. to fill the void left by the planned dismantling of several coal-fired power plants, most of which were already no longer able to produce reliably due to maintenance neglect.
"Even though the country continues to experience intermittent load shedding, we are moving forward with pace and determination to bring new generation capacity online as soon as possible."
Besides the government's own procurement program, Ramaphosa said the government was working with the private sector to accelerate investments to unlock a potential 4,000 MW of embedded generation.